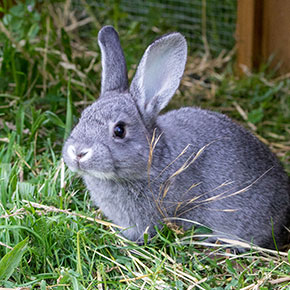 August 14, 2018
As naturally shy creatures, rabbits benefit hugely when their owner invests time in establishing a strong relationship with them.
It also makes owning a rabbit much more enjoyable, as the better you know your pet, the easier it becomes to understand their needs and make the most of their presence in your home.
With time, you can build trust and improve the quality of your rabbit's life by following a few simple guidelines. And if you need some extra advice, our vet nurses are here to help. It's easy to deal with any concerns about your rabbit's welfare – simply give us a call on 020 7229 2040 to book an appointment.
So, how do you bond with your rabbit?
Here's a step-by-step guide from the Bayswater Vets team…
Share your rabbit's eyeline
Either lie down on the floor so your rabbit can see you properly, or bring them up to sit on a sofa with you. This helps them to get to know your face and behaviour.
Take it slowly
Let your rabbit choose to approach you, rather than forcing them to interact. Rabbits are naturally curious, but may take several months to feel comfortable around you and your home.
Keep it relaxed
Speak quietly and avoid sudden movements (as these could give your rabbit a fright). Also remember that rabbits often don't like to be held – but they do enjoy affectionate contact such as stroking and nuzzling.
Offer treats and be playful
Rabbits regard eating as a social activity, so offering small morsels of food can help build your relationship. Likewise, playing with wooden blocks or stacking cups can please them. You can combine the two by rewarding playful behaviour with treats.
Take note of your rabbit's personality
No two rabbits are the same, once you get to know them well. Respect their individuality and respond to what they enjoy most. Are they content to just sit with you? Do they prefer active playtime? Are they affectionate?
You can also join our online communities on Facebook and Twitter, where you can watch out for advice and connect with other rabbit owners around Bayswater.
But if you ever suspect that your rabbit is feeling unwell, please don't hesitate to ask our advice. After all, that's what we're here for.