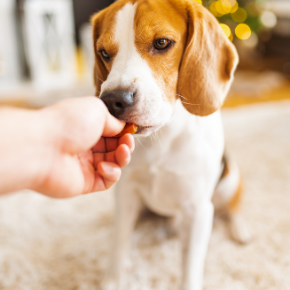 November 14, 2020
The Christmas holidays are a time when our pets tend to get a few more treats than normal. Nothing too wrong with that, assuming you stick to the 90/10 rule and treats end up comprising no more than 10% of a complete and balanced diet.
The good news is that, if you want to give them treats, there's no need to spend a fortune on specially formulated food, when your fridge and your fruit bowl could be hiding a bunch of tasty titbits that your pooch will pounce on at the first opportunity.
Before you start on the treats though, why not take this opportunity to pop in for a free nurse led weight check at our Alexander Street surgery. A quick hop on the scales is never a bad thing and it may give you some good insight into how your dog's diet should shape up over Christmas.
Book a Free Nurse Led Weight Check
Assuming all is well then you may like to know that many fruits and vegetables make wonderful treats for dogs. They are nutrient-rich, convenient and generally low in calories. Which will help you meet the challenge that many of us face in striking a balance between treating our furry friends and managing a healthy weight.
So, here are four of our kitchen essential favourites;
Apples. Good for dogs and people! Packed with nutrients and fibre, a few pieces of apple are great snack, but don't feed them the seeds or core.
Green Peas. Defrosted green peas (or fresh) are great treats, and most dogs love them. Use as training treats or just put some in their bowl.
Carrots. Loaded with vitamins, carrots are a kitchen staple you can cut into bite-sized pieces (depending on your dog's size) and use as a healthy reward.
Green Beans. Plain and simple when cut into manageable lengths, beans are a great source of fun & fibre.
Take it easy … peasy
There's lots more, including bananas, broccoli and even cooked (and cooled) squash like pumpkin & sweet potato. Top tip… if you're introducing new treats, then it's generally best to start with one or two pieces to see how they get on.
Finally, it may seem obvious, but actually, dogs don't really care what they are getting. Often, they crave the attention as much as the treat. So why not keep a fraction of their daily rations to hand out slowly as treats. Fun for you, rewarding for them, easy on their weight and kind to your pocket too.