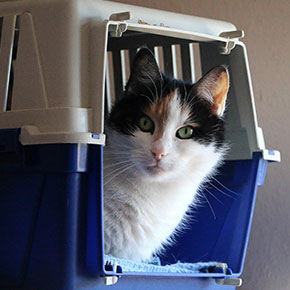 November 28, 2018
Love taking your pets on your European travels?
Here's everything you need to know in the event of a No Deal Brexit.
When it comes to our pets, we never take chances. They're much too important to us for that. That's why we want to make sure that you have all the information you might need to take your pet to any EU country after 29 March 2019, in the event of a No Deal Brexit.
According to a statement by the UK government, there are 4 key areas to consider before taking your pets to an EU country:
Rules for pet travel
Repeat trips to the EU
Return to the UK
UK nationals living abroad
Rules for pet travel
If the UK leaves the EU and becomes an 'unlisted country', there are new rules to ensure your beloved pets can travel within the EU after 29 March 2019:
Your dog, cat, or ferret must be microchipped and vaccinated against rabies.
Your pet must have a blood sample taken at least 30 days after the rabies vaccination. (You'll need to talk to your vet about whether you need a rabies vaccination or booster before this test.)
Your vet must send the blood sample to an EU-approved blood testing laboratory.
The results of the blood test must show that the vaccination was successful (Your pet must have a rabies antibody level of at least 0.5 IU/ml).
You must wait 3 months after the successful blood sample was taken before you travel.
You must take your pet to an Official Veterinarian (OV) no more than 10 days before travel to get a health certificate.
Other things to consider:
If there's no deal, pet passports issued in the UK will not be valid for travel to the EU.
A successful blood test is only required for first time travel to an EU country. This is provided that your pet's rabies vaccinations are kept up to date with boosters before the expiry date of the previous vaccination.
Your pet health certificate would be valid for:
10 days after the date of issue for entry into the EU
4 months of onward travel within the EU
re-entry to the UK for 4 months after the date of issue
People travelling with their pets would be required to enter through a designated Travellers' Point of Entry (TPE).At the TPE, the pet owner may be asked to present proof of microchip, rabies vaccination, and the blood test result alongside their pet's health certificate
This entire process can take up to 4 months so you should contact your vet far in advance of travelling to any EU country
Repeat trips to the EU
If your pet has previously had a blood test and has proof of an up-to-date rabies vaccination, the blood test doesn't need to be repeated. However, they will need a health certificate for each trip to the EU, which confirms their vaccinations and the results of the blood test.
To get a new health certificate you must take your pet to an Official Vet no more than 10 days before you travel, with proof of their vaccination history and blood test results.
Return to the UK
It's mandatory that your pet has one of the following documents when returning to the UK:
an existing EU pet passport (both for UK and EU citizens)
the EU health certificate issued in the UK used to travel to the EU
a UK pet health certificate (issued outside the UK for travel into the UK only)
It's important to check the routes before you travelto make sure that it's an 'existing approved route'. If you're not travelling on an approved route, talk to your vet about what preparations you need to make before travel.
Also, if you're travelling from a country that's not free from tapeworm (Echinococcus multilocularis), there's one more step to keep in mind:
Take your dog to a vet between one and five days before returning to the UK for an approved tapeworm treatment. However, you don't need to treat your dog for tapeworm if you're coming directly to the UK from Finland, Ireland, Malta or Norway.
UK nationals living abroad
For those living in Europe with plans to travel with their pet using a UK-issued pet passport, it's important to speak to your local vet. They'll be able to help you understand the impact of Brexit and ensure you're compliant with EU Pet Travel Regulations.
Once again, there are a few potential rules to consider:
If your pet's passport was issued by an EU member state, it can be used to bring your pet to the UK
A successful rabies antibody blood test is needed to return to an EU country from the UK with your pet
You don't need to wait for 3 months before travelling if your pet has a successful blood test before leaving the EU.
We know, that's a lot to take in, especially when this No Deal Brexit may never happen. In the meantime, though, if you need any more guidance on these new potential rules, here's everything the government needs you to know.
And, if you're not in the mood to read any more, just get in touch with your local vet and we'll make sure you're ready for any upcoming travel plans you have with your furry family members.
Remember, preparing your pet for travel within the EU after 29 March 2019 might take up to 4 months, so it's worth getting in touch with us at Bayswater Vets in Bayswater right now to avoid any issues.
If you have any further queries, please do feel free to call our Head Vet Christina today on 0207 229 2040 who will be more than happy to help.