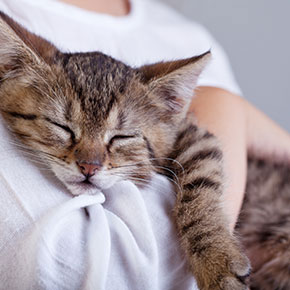 May 14, 2019
Our experienced team of vet nurses at Bayswater Veterinary Clinic have plenty to offer you and your pet. Whether you're worried about your cat or you have a practical question about how best to care for it, our head nurse Kate and the team are here to help.
Five things our vet nurses can help with
Weight checks and dietary advice

Obesity increases the risk of your pet developing other diseases. If you're worried about the size of your cat, our nurses can show you how to monitor its weight, as well as explain how to manage body condition to keep it healthy and happy throughout its life.

Dental checks

Keeping your cat's teeth healthy can prevent more serious diseases. Our nurses can show you how to properly clean your pet's teeth and check for tell-tale signs of impending dental problems. Any suspected dental problems can then be referred to a vet for treatment.

Parasite checks

All cats come into contact with fleas and worms at some point during their life. If you have any concerns or queries about routine flea or worm control, just bring your cat along to Bayswater Veterinary Clinic for an examination from one of our nurses and we'll discuss which parasite control product is best for your pet, your family and your lifestyle.

Senior health checks

As your cat enters its senior years, it's advisable for it to have health checks more often. As animals age, they can develop a range of health problems, so it's a good idea to book regular check-ups with the nurse. The sooner we can identify any abnormalities, the sooner we can treat them.

Microchipping

We recommend that all cats are microchipped in case they stray, become lost or are stolen. If you have any questions, feel free to ask our nurses about microchipping. They work with our vets to administer the microchips and will be able to offer you plenty of advice.
It's easy to book an appointment – you can give our team a call on 020 7229 2040 or contact us online. We've got a wealth of experience with cats, and we'd love to see you and your pet.