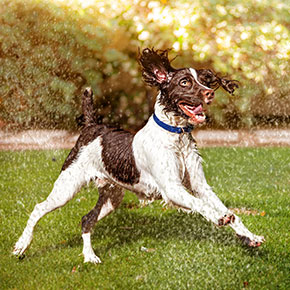 November 28, 2018
Have you been looking for an excuse to get a furry new best friend?
Here at Bayswater Vets, We've got just the thing.
Big news, animal lovers. According to research carried out in Sweden, having a dog padding around the house can reduce your risk of an early death from cardiovascular disease (and similar causes).
We already knew they were our best friends, and now they're becoming our best preventative medicine, too? They're too good to us.
In the study, 3.4 million Swedes were analysed, comparing the information of people between 40-80 years of age from national registries and dog ownership registries. It was found that those who owned a dog had a low risk of cardiovascular disease and other such heart-related issues that may cause an earlier death.
The study revealed that there was a "33% reduction in risk of death and 11% reduction in risk of heart attack" for those who owned a dog, and that this might be because the dogs increase their owner's "social contact or wellbeing, or by changing the owner's bacterial microbiome."
A microbiome is a collection of microscopic species in the gut and it's believed that dogs introduce you to different types of bacteria, therefore improving your ability to deal with bacteria compared to those without a dog.
An article by Harvard Health also stated that "dog owners have lower blood pressure than non-owners" and that the reason behind this is "probably because their pets have a calming effect on them and because dog owners tend to get more exercise."
Whatever the reason may be, the fact is that by letting a dog into your heart, they just might save it.
If that's all you needed to finally take the plunge and find your new best friend, here at Bayswater Vets, we're happy to help you if you need any more information about dog ownership.
Call us today on 020 7229 2040 to talk with our vet Christina, or one of the veterinary team.