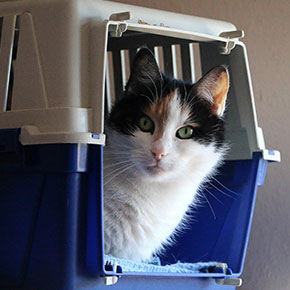 July 21, 2018
So you're heading off on your summer holidays. You've probably got a check list for what you need to pack, and you probably have a way of ensuring you make optimum use of the available space. But if you're taking kitty too you probably already know that packing a cat is a very different – not to mention – challenging task.
The team at Bayswater Vets has packed plenty of cats in their time, and they know all the tricks to minimise stress. So whether you're off on a trip or simply taking your pet to the vet, the following will help make it a smoother process. If you still have problems, contact us today and we will be happy to offer some more advice.
Most cats' first contact with a carrier will have been for a trip to the vets or a cattery, so they tend to associate it with either medical treatment or being separated from their family – no wonder they may fear it. Car travel is an alien thing to them then they are likely to end up in a place that can be very noisy and smell of strange dogs and other cats.
Six steps to getting your cat safely into a carrier
Line the bottom inside of the carrier with a towel or blanket your cat has slept on, for comfort and in case there are any accidents.
Put the open carrier on its end so the entrance is facing the ceiling.
Hold your cat under the chest with your other hand supporting its hind legs.
Lower it in backwards so it can't see where it is going.
If there is a struggle, wrap your cat in a thick towel so it can't scratch.
Now, return the carrier to its correct position and cover it with a towel or pillowcase to make it seem even more safe and snug (unless it's a very hot day).
Bayswater Vets' team also suggests familiarising your cat with the carrier before first use and avoiding feeding for at least an hour before travel in case of sickness.
Hopefully these tips will help both you and your cat when it comes to your travels, but for any further advice, don't hesitate to contact us.