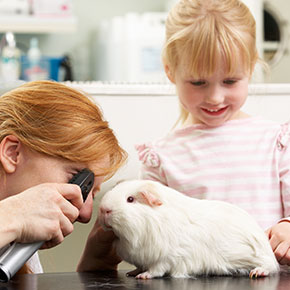 October 21, 2018
Got a guinea pig? We see a lot of small pets at our vet practice on Alexander Street – and they visit for a variety of reasons.
One of the most common is for a routine check-up, which we recommend for all animals to make sure they're at their best. It can also be a good opportunity to spot the early signs of any future problems and make sure they're dealt with swiftly.
If you'd like to book a check-up for your guinea pig, please contact us to arrange an appointment. And if you'd like to know what we tend to check for, keep reading…
When you bring your guinea pig to Bayswater Veterinary Clinic for a check-up, we'll often ask you a few questions, including:
How are your guinea pig's eating habits? – If they're eating pellets at a normal rate, that's great. But otherwise, we may need to investigate further, to see if there's an underlying problem. And remember: If they go more than 8 hours without eating, you should always consult a vet without delay.
Have there been any changes in your guinea pig's energy levels? – Although guinea pigs enjoy napping, they should also have active phases. If they seem lethargic, or appear to be in discomfort when moving around, we may need to take a closer look at what's troubling them.
Does your guinea pig make any unusual noises? – If your guinea pig is crying out with regularity, especially when urinating or doing another everyday activity, they may be in pain and therefore need clinical attention. We can examine them carefully and help you establish what's wrong.
We'll also listen for laboured breathing; check their eyes, ears and nose; and check their overall physical condition for issues such as weight or skin troubles.
Plus: Guinea pigs should be kept clean so that it's easy to observe the quality of their coat and check for staining by urine or droppings, which can indicate other problems. If you're struggling with grooming, please mention it to us so that Kate or another of our vet nurses can offer advice and guidance.